Welcome to Monica's Shih Tzus
Welcome

Our puppies will go to their forever new home as pet only (no breeding rights) & must be spayed/neutered to ensure they make the best of pets.
Therapy dogs play an important role when they are used for health recovery issues, from time to time we use some of our shih tzus as therapy dogs. The most important characteristic of a therapy dog is its temperament. A good therapy dog must be friendly, patient, confident, gentle, and at ease in all situations. Therapy dogs must enjoy human contact and be content to be petted and handled, sometimes clumsily.
A therapy dog's primary job is to allow unfamiliar people to make physical contact with it and to enjoy that contact. Children in particular enjoy hugging animals; adults usually enjoy simply petting the dog.

We are a small family hobby breeder, shih tzus are our Passion, our adult breeders shih tzus are our family pets, our shih tzus are belong to my daughters, granddaughters, sons and even to very good close friends, from time to time I take care of most of the dogs here at our house in Gardena, California. It is important that our shih tzus get as much socialization as possible. Some of our shih tzus are spayed/neutered and live here with us.
Our goal is to improve the breed, avoid genetic defects, and produce puppies that are not only better than their parents but one step closer to the ideal perfect Shih Tzu.

Many times we rescue shih tzus and try to find a good home for them.

About our Puppies
ALL of our babies are raised in our home. Our puppies born and stay in my bedroom until they reach four weeks old, then they are transferred to a separate room. We raise them as part of our family and encourage human contact from day one. My two grand children interact with all the pups so they are used to being around kids. It helps them be prepared for any type of environment in which they will go home to. We slowly start on potty training. Pups have their first shot and worming. We provide a very good information about puppy care. We also send a puppy's favorite toy, a small rug blanket and bedding with each pup that has the mother's and litter's scent on it to help with their separation. Puppies do not leave our house until they are at least 8 weeks old or older.

We do not provide weight guarantee. All we can do is estimate adult size judging by the puppies weight at time of sale, size of parents and past litters. The weight of the puppy will develop according to the puppies exercise, eating habits, and metabolism.
By the time the puppy comes to you, they have had a few baths, their hair trimmed around their eyes, bottoms, and their nails trimmed. They are used to being handled and loved daily.
We recommend you spay or neuter your pet Shih Tzu as it increases the chances of your dog leading a longer and healthier life. Breeding dogs is a great responsibility and can be very costly. You should breed only if you have a top quality dog healthy in body and mind and have done your homework.

We have an obligation to place all of our puppies in loving homes, answer the new owners' questions, and to take back any dog that we breed if its new home does not work out, as mentioned in our Contract and Bill of Sale for a Companion Dog.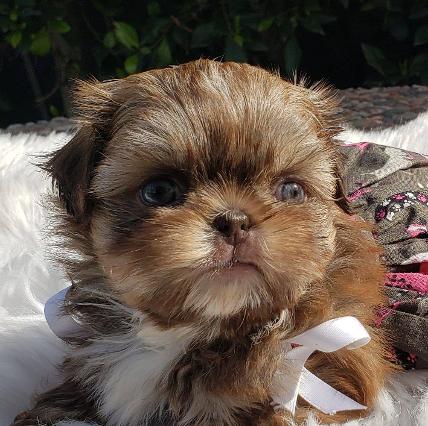 Contact Information
Monica

310) 661-1031
Located in Los Angeles, California
e-mail us at: shihtzulover7@gmail.com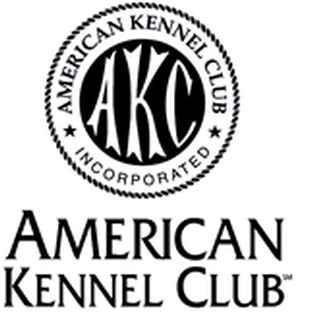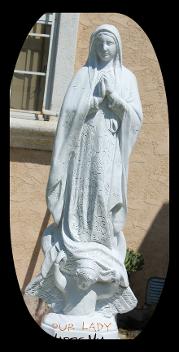 Animals in Heaven
The Bible indicates that animals will exist after His return and the beginning of the Kingdom as Isaiah 11:6-9 reads, "The wolf will live with the lamb, the leopard will lie down with the goat, the calf and the lion and the yearling together; and a little child will lead them. The cow will feed with the bear, their young will lie down together, and the lion will eat straw like the ox. The infant will play near the cobra's den, the young child will put its hand into the viper's nest. They will neither harm nor destroy on all my holy mountain, for the earth will be filled with the knowledge of the LORD as the waters cover the sea." Here is the Word of God declaring that animals will still exist in the future, after Christ's reign begins. Ecclesiastes mentions that there is a "spirit" in man but also in animals in (3:19, 21) but this does not necessarily mean that it is an eternal spirit.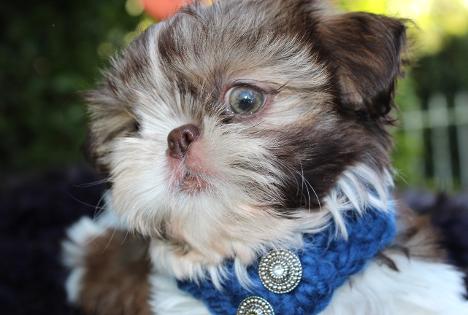 The Studies are in!!!
Having a pet is good for you!

Research shows that pet owners have fewer minor health problems like headaches, colds and hay fever and visited their doctors less than those patients who did not have canine companionship. Having a pet can help lower blood pressure. Other studies have shown that pet owners have lower cholesterol levels, which may make them less prone to heart attacks and stroke.

Walking the dog may not seem like exercise, but any activity that gets you up and moving is great for your heart.

The mental benefits of owning a pet are just as important. Petting an animal helps us relax, thus lowering our blood pressure. Even watching feathered or finned creatures like birds and fish can reduce our feelings of stress. Pets can also help us recover from serious illness by giving us psychological support. How? Having a companion animal make us feel less lonely and isolated. Pets can help decrease feelings of depression and worry, both of which can slow your recovery time. Animals can bring great joy to our lives as well as unexpected health benefits.
Written by Karen Christensen
Written by Karen Christensen